Odessa Center for Nonproliferation (Ukraine)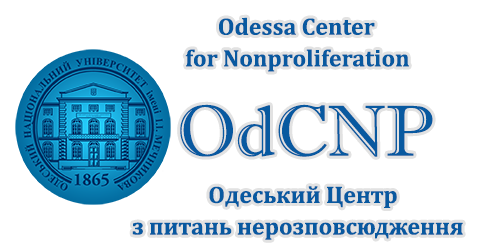 Odessa Center for Nonproliferation (OdCNP) is established in 2015 on the base of Odessa I.I. Mechnikov National University, the Faculty of International Relations, Political Science and Sociology with the support of Swedish Radiation Safety Authority (SSM).
The core mission of OdCNP is to provide a platform for education, training, research and outreach of the new generation experts on nuclear nonproliferation& nuclear security in Ukraine.
The objective of the Center is to catalyze the development of nonproliferation expertise in Ukraine, as well as Central and Eastern Europe and Black Sea region by means of national and international dialogue, education, training and research.
The main focuses of the Center's activities are:
Education and training of students and young specialists;
Academic research, including projects;
Outreach and awareness in the field of nonproliferation, aimed at such audience as journalists, high school students, and general public;
A platform for dialogue and joint projects with experts from universities and research centers from Ukraine, Europe and the United States, as well as from nuclear and missile industries and governmental bodies.
Contact information
Odessa Center for Nonproliferation
Odessa I.I. National Mechnikov University
Faculty of International Relations, Political Science and Sociology
Dvoryanska 2 str,
Odessa, 65000
The team
Contacts
Resume
Speciality
Polina Sinovets
Head of OdCNP
polina.sinovets@gmail.com
Associate Professor at the Faculty of International Relations, Political Science and Sociology at ONU.

Previously, Dr. Sinovets worked as senior research associate at Ukraine's National Institute for Strategic Studies (2003-2012).

In 2006 she was a research fellow at the James Martin Center for Nonproliferation Studies, in 2015 the research  fellow at NATO Defense College in Rome and in 2017/18 the Fulbright Scholar at the James Martin Center for Nonproliferation Studies in Washington DC.

Russian nuclear policy
US nuclear policy
Nuclear deterrence & arms control

Dmytro Chumak
Research Fellow
chumak.dmytro@gmail.com
Worked at the Technical Support Organization to the Ukrainian nuclear regulator.

A member of the Steering Committee of the International Network of Emerging Nuclear Specialists..

Consultant to the Member of Parliament of Ukraine on energy security questions.

Nuclear Security
Nuclear history of Ukraine

Valeriia Gergiieva
Junior Research Fellow
gergiieva17@gmail.com
PhD Candidate, Faculty of International Relations, Political Science and Sociology at ONU.

MA degree in international relations, Odessa I.I.  Mechnikov University, 2015.

Energy security in the Black Sea region
Nuclear Security

Tetiana Melnyk
Junior Research Fellow
tetianamelnique@gmail.com
PhD Candidate, Faculty of International Relations, Political Science and Sociology at ONU.

MA  degree in EU International Relations and Diplomacy Studies, College of Europe, 2018.

European security
Nuclear deterrence

Valeriia Lovova
Junior Research Fellow
MA in International Policy with Concentration on International Security and Nonproliferation in UGA.

Internship in Carnegie Endowment for International Peace, Washington DC ( 2018)

Internship in James Martin Center for Nonproliferation Studies, Washington DC  (2018).

International organizations in nonproliferation
Nuclear security

Denys Kuzmin
Program Coordinator
An Assistant Professor at the Department of International Relations, ONU.

Coordinator at the Center for International Studies, ONU.

OdCNP programs  coordination

Iryna Maksymenko
Administrative Coordinator
ira.maksymenko@gmail.com
Associate Professor, Department of International Relations, Odessa I.I. Mechnikov National University.

Research Fellow of the Center for International Studies.

Previously worked as a  Senior Research Fellow at Odessa Regional Branch of National Institute for Strategic Studies, Department of regional studies ( 2004-2015).

Nuclear history of Ukraine
European security
Administrative work