VCDNP (Austria)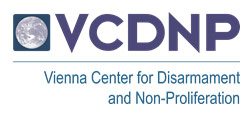 The Vienna Center for Disarmament and Non-Proliferation (VCDNP) is an international non-governmental organization established on the initiative of the Austrian Foreign Ministry in 2010 and officially opened in 2011. The Center's mission is to promote international peace and security by providing a platform for independent analysis and dialogue in the field of nuclear disarmament and non-proliferation. In order to fulfill its mission, the VCDNP employs conferences, seminars, and other fora to foster results-oriented discussion among international organizations, national governments, non-governmental experts, scholars and civil society. The Center partners with other academic and non-governmental institutions as well as international organizations in conducting research, outreach, education and training on non-proliferation and disarmament. The VCDNP is operated by the James Martin Center for Nonproliferation Studies at the Middlebury Institute of International Studies at Monterey.
Contact information
Vienna Center for Disarmament and Non-Proliferation (VCDNP)
Donau-City-Strasse
Andromeda Tower
Floor 13/1
1220 Vienna
Austria
Point of contact
The team
Name
Resume
Speciality/Research Focus
Elena Sokova

Executive Director

Elena K. Sokova resumed the Executive Director of the Vienna Center for Disarmament and Non-Proliferation position in June 2019. She was the first Executive Director of the VCDNP in 2011-2015 and afterwards served as Deputy Director of the James Martin Center for Nonproliferation Studies (CNS) at the Middlebury Institute of International Studies at Monterey (2015-2019). She held several senior research and management positions at CNS prior to her Vienna posting from 1997 to 2011. In 1981-1992 she worked at the Soviet and then Russian Foreign Ministry. Elena K. Sokova served on the Global Agenda Council on Nuclear Security (World Economic Forum) in 2014-2015 and chaired a working group on the elimination of civil HEU established by the Fissile Material Working Group in 2014-2016.

Fissile materials security and control
International organizations and regimes in non-proliferation and disarmament
Nuclear non-proliferation issues in Eurasia
Nuclear non-proliferation and international safeguards
Non-proliferation and disarmament education and training

Angela Kane

Senior Fellow

Before joining the Center, Ms. Kane served as the United Nations High Representative for Disarmament Affairs until mid-2015. She was responsible for planning, negotiating and conducting the groundbreaking investigation of alleged chemical weapons use in Syria in 2013, which resulted in Syria's destruction of its chemical stockpiles. Ms. Kane served as the Under-Secretary-General for Management at the UN (2008-2012). Ms. Kane was also responsible for Political Affairs as UN Assistant Secretary-General and served as the Assistant Secretary-General for General Assembly and Conference Management. Her field experience includes Deputy Special Representative of the Secretary-General for the UN Mission in Ethiopia and Eritrea, and also in Indonesia and Thailand.

Peace operations and disarmament
Political relations and negotiations
Multilateralism

Dr Nikolai Sokov

Senior Fellow

Dr Nikolai Sokov was born in Moscow. He graduated from the Department of History of Moscow State University in 1981 and subsequently worked at the Institute of US and Canadian Studies (1981-86) and Institute of World Economy and International Relations (1985-87), both USSR Academy of Sciences. He was awarded the degree of Candidate of Historical Sciences in 1986.

In 1987-92, Dr Sokov worked at the Ministry of Foreign Relations of USSR/Russian Federation. He participated in START I, START II and other arms control negotiations as well as numerous summit and ministerial meetings.

In 1992-96 he was graduate student at the University of Michigan in Ann Arbor and was awarded a PhD in Political Science in 1996.

Dr Sokov joined the James Martin Center for Nonproliferation Studies in 1996, where he has worked since. In 2011-14 and since 2019 he works at the VCDNP.

He has published widely, including two dozen books and monographs as well as more than 200 articles. He is regularly invited to speak at various conferences and other public events and has consulted many international organizations (including the International Atomic Energy Agency and the Preparatory Commission for the Comprehensive Nuclear-Test-Ban Treaty Organization) as well as US governmental agencies (i.e. Departments of State, Defense, and Energy) and various committees of the US Congress.

He taught full-semester at the Middlebury Institute of International Studies at Monterey and short courses at Tomsk State University (Russia) and Odessa National University (Ukraine).

Arms control, disarmament and international security
Theory and practice of international regimes
Comparative foreign and defence policy and military strategies
Nuclear non-proliferation: The Treaty on the Non-Proliferation of Nuclear Weapons
Safeguards
International cooperation for non-proliferation
Great power relations: US-Russia-China
Alliance relations
NATO
Nexus between domestic and foreign policy

Gaukhar Mukhatzhanova

Director, International Organisations & Non-Proliferation Program

Ms. Mukhatzhanova worked previously as Senior Research Associate and NPT Project Manager at the James Martin Center for Nonproliferation Studies (CNS). She served as an expert on the delegation of Kazakhstan to the 2010 NPT Review Conference and the delegation of Chile to the 2015 NPT Review Conference. She has taught workshops and courses on Iran's nuclear program and on nuclear proliferation trends and trigger events at the Middlebury Institute of International Studies in Monterey (MIIS). Prior to joining CNS, she was a Media and Outreach Specialist at the UN Development Programme in Kazakhstan.

Multilateral non-proliferation regimes
International non-proliferation and disarmament negotiations and the role of coalitions
Nuclear politics of the Non-Aligned Movement
Nuclear-Weapon-free zones
Iran's nuclear program and proliferation theory

Ingrid Kirsten

Senior Research Associate

Before joining the VCDNP, Ms. Kirsten spent 20 years as a diplomat for the Republic of South Africa, including a posting at the South African Embassy and Permanent Mission in Austria. She has also worked as researcher at the New Partnership for Africa's Development (NEPAD) and managed stakeholder relations for the International Food Policy Research Institute (IFPRI) and the World Institute for Nuclear Security (WINS). Her current focus is the nexus between technical cooperation in nuclear energy and nuclear security, as well as the role of the IAEA.

International relations in agriculture and food security
Peaceful uses of nuclear energy and nuclear technology
Nuclear and conventional arms control

Artem Lazarev

Research Associate

Prior to the joining the VCDNP, Mr. Lazarev completed an internship at the Office of Legal Affairs of the International Energy Agency dealing with the legal aspects of nuclear safety, security and liability. He also worked as a lawyer at the European Court of Human Rights and held several other legal posts in Russia and Spain. Mr. Lazarev completed his PhD in International Law from the University Pompeu Fabra (Barcelona, Spain) in September 2017. His dissertation focused on the evolution of the legal aspects of the IAEA safeguards and their application to Iran.

IAEA Safeguards
Legal Aspects of Non-proliferation
Nuclear Security

Noah Mayhew

Research Associate

Mr. Mayhew is a member of the first graduating class in the dual master's degree programme in nonproliferation studies of the Middlebury Institute of International Studies at Monterey (MIIS) and the Moscow State Institute of International Relations (MGIMO). His thesis addressed US-Soviet and US-Russian policy with regard to the nuclear programme of the Democratic People's Republic of Korea (DPRK). Prior to joining the VCDNP, he completed an internship with the IAEA's Office of Public Information and Communication.

US-Russian relations in the spheres of non-proliferation and arms control
History and modern considerations of nuclear negotiations with the DPRK
Modern use of chemical weapons

Mara Zarka

Office and Events Manager

Prior to joining VCDNP, Ms. Pfneisl completed an internship at the International Peace Institute, Vienna Office, where she assisted in organizing the 43rd annual IPI Vienna Seminar focusing on the dangerous nexus between crime, conflict and terrorism. She also gained experience interning at the Preparatory Commission for the Comprehensive Nuclear-Test-Ban Treaty Organization at the United Nations in Vienna and working on local political campaigns in the United States.  She holds a Masters from the Diplomatic Academy in Vienna.