Second EU Non-Proliferation and Disarmament Conference
30 September 2013

-

1 October 2013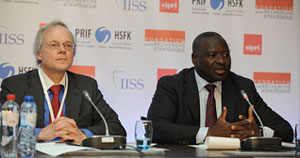 More than 300 experts have gathered in Brussels on the 30 September-1 October 2013 to discuss the spread of nuclear and other dangerous weapons. In accordance with the Consortium division of labour, IISS took on the main organizing role for the conference. Introductory Remarks were given by Maciej Popowski, Deputy Secretary General, European External Action Service (EEAS). Keynote address was given by Dr Lassina Zerbo, Executive Secretary, Preparatory Commission for the Comprehensive Nuclear-Test-Ban Treaty Organization. Evening Keynote Speech was given by Linas Linkevicius, Minister of Foreign Affairs, Lithuania. All the Plenary Sessions, introductory remarks and keynote addresses were recorded on video and are available through this website.
For additional information on the Conference, please see the dedicated Conference website of IISS.
General Documents
Plenary and Special Sessions: videos, speech transcripts, Q & A
Introduction to the meeting and Keynote Speech – by Maciej Popowski and Dr Lassina Zerbo
First Plenary Session – Strengthening The Non-Proliferation & Disarmament Regime

Jacek Bylica
Patricia Lewis
Tibor Toth
Angela Kane
Questions & Answers

Evening Keynote Address – by Linas Linkevicius
Second Plenary Session – Addressing Non-Proliferation and Disarmament in the Middle East

Jaakko Laajava
Mahmoud Karem
Shlomo Brom
Questions & Answers

Third Plenary Session – EU Non-Proliferation Policy and Implementation

Joëlle Jenny
Lars-Erik Lundin
Tarja Cronberg
Andrew Cottey
Questions & Answers

Special Sessions

Addressing Bio Risks
Ballistic Missiles & Outer Space: Transparency & Confidence Building
Strategic Trade Controls
Regional Security & Proliferation Challenges In Northeast Asia
Nuclear Security
Countering Illicit SALW Trafficking
The 2015 NPT Review Process: Challenges & Opportunities
Controlling Chemical Weapons
Arms Trade Treaty: the Way Forward
Nuclear Disarmament (Multilateral, bilateral and humanitarian initiative)
Assessing the Efficacy of Sanctions Policy
On Twitter
Conference Photo Gallery
The Conference online photo album is available on Flickr.