Research Paper launch event : Harnessing transparency potential for missile non-proliferation
On 17 February 2022, Katarzyna Kubiak discussed her recently published paper on how open source intelligence can be mobilised to track missile development, and therefore contribute to the goal pursued by the Hague Code of Conduct.
INTRODUCTIONARY REMARKS 
Narcisa Vladulescu, Chair of the CONOP Working Party on Non-Proliferation, EEAS, European Union
SPEAKER
Katarzyna Kubiak, Senior Policy Fellow, ELN
DISCUSSANT 
Melissa Hanham, Independent expert
MODERATOR
Emmanuelle Maitre, Research Fellow, FRS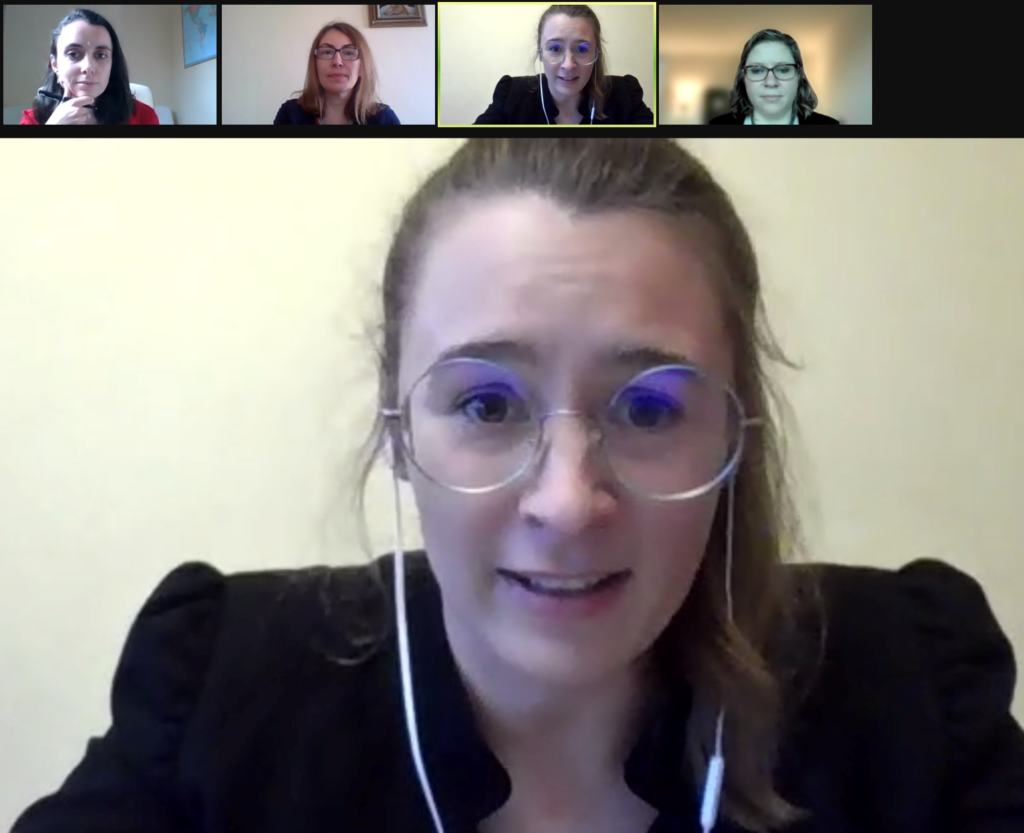 Narcisa Vladulescu introduced the webinar on behalf of the European Union External Action Service (EEAS). She recalled the longstanding cooperation between the EU and FRS, in the framework of a project in support of the Hague Code of Conduct against Ballistic Missile Proliferation (HCoC) which has been ongoing since 2008. 2022 will mark the 20th anniversary of the HCoC. It is therefore a key moment to take stock as well as to reflect on what lies ahead. The EU continues to support the Code, as the only multilateral instrument to focus on ballistic missile proliferation. The HCoC encourages restraint on ballistic missile developments and increases confidence at the international level. The world has changed since its adoption, but the Code is still highly relevant today, with a unique role when it comes to information-sharing, confidence and transparency.
Dr Katarzyna Kubiak highlighted some of the key takeaways from her report on « Harnessing transparency potential for missile non-proliferation ». Today, a great amount of open source data is available, as are the tools to analyse this data, and the experts to carry out the analysis – but the data still remains heavily underutilised.
Open-source intelligence (OSINT) resulted in several recent findings in the field of non-proliferation. This was the case last year, when more than a hundred new missile silos were discovered by open source analysis at various locations in China. The revelations from satellite imagery came from privately-owned, commercially operated satellites, and the analysis was carried out by think-tank and academia analysts.
This case shows that the time when information was the exclusive purview of governments is over. The amount of information available is growing on a daily basis, as well as the types of data sources. Increased transparency now seems unavoidable, including in the missile domain. It has become increasingly hard to hide information, and to keep out sensitive data due to likely disclosures. Contradictions between what leaders claim and the reality on the ground will become more difficult to justify.
Increased transparency in missile non-proliferation holds many benefits: it can substantiate accusations and claims, provide a better understanding of a situation on the ground, and empower states that do not possess national technical means by creating actionable intelligence.
In the context of HCoC, as well as implementing the range of measures contained in the text of the Code, subscribing states could also contribute to countering proliferation by investing in open-source analysis. For some states, it would serve to supplement government-led monitoring activities; while for others, it would mean developing their own sources of intelligence and lessen their dependence on foreign data and information. Support can range from financing data analysis tools, providing better access to relevant data, or establishing and financing education and training programmes.
Some could wonder whether increased transparency could lessen the value of subscribing to the Code – namely the access to privileged information. But it appears that the benefits of formal membership remain and the two dimensions are complementary. First, the HCoC is about multilateral transparency but also about building confidence between states– the information provided by OSINT alone cannot achieve this, and the creation of an official forum to discuss governmental data is essential. Second, data available today still does not provide a full picture on the ground, and it is important to complement it with official reports for a comprehensive picture. Third, increased transparency can serve to strengthen the Code, but it is not a substitute for political will to implement measures. The Code only can offer a closed space, a platform to address concerns and exchange information. One of its main values is to put a collective stamp on the information gathered. From this perspective, embracing transparency can be instrumental in framing political processes.
As discussant, Melissa Hanham stressed the importance of the report and welcomed the focus on HCoC. The Code is too often forgotten amongst the existing arms control instruments, but attention to it is needed. She recalled the substantial change OSINT is going through – which the report addresses. After a first phase during which individuals realised they could make national security findings using their laptops, a second phase of professionalisation, systematisation followed.  
Some governments may feel challenged that individuals can find out information and make policy-relevant findings available to the press and public. But this process is now unstoppable. Governments can however use this in a positive way, by funding and supporting the work of individuals so that it is carried out ethically, systematically, and in a way that is helpful and not harmful. The HCoC can benefit from this.
The report importantly highlights that OSINT is a democratising process for states, and an opportunity to grow human capital. Adapting export control instruments and policies will be needed to allow academics or experts from non-profits to legally have access to information and share it effectively and safely.
It is also worth noting that while satellite imagery capabilities are the main focus of the paper, improvements on machine-learning, artificial intelligence can also be instrumental in helping analysts sift through the large amounts of data available.