University of Barcelona (Spain)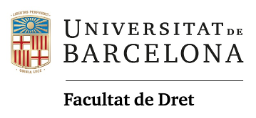 The Law Faculty of the University of Barcelona, which like the university itself dates to 1450, focuses both on law teaching and research, at national and international levels. Currently, the Law faculty offers eight bachelor's degrees, eight university master's degrees and over 60 UB-specific postgraduate courses, comprising UB-specific master's degrees, specialization and postgraduate diploma courses, expert courses, two higher university courses, and 12 university extension courses. The offering is rounded out with a doctoral programme with various research areas.
The section of Public International Law, which is part of the Department of Criminal Law, Criminology, and International Relations, participates in most of such degrees and conducts basic research on contemporary international law and European Union law. Its members belong to the Consolidated Research Group (2017 SGR 1371 DIDUE) and within a general framework dedicated to the relationship between the maintenance of international peace and security, as well as between international humanitarian law and the international protection of human rights, specific research is developed on international cooperation in the field of security, disarmament, non-proliferation of weapons of mass destruction, and export controls.
Contact information
Department of Criminal Law, Criminal Science, Public International Law and International Relations, Law Faculty, University of Barcelona
Av. Diagonal, 684, 08034, Barcelona, Spain  
The team
Contacts
Resume
Speciality
Dr. Ana Sánchez-Cobaleda
Researcher and lecturer at the Public International Law section of the Law Faculty of the University of Barcelona and legal advisor of EU outreach projects in the field of strategic trade controls.

She holds a PhD in Law from the University of Barcelona (2019, Extraordinary PhD Award) and has been a postdoctoral fellow at the Grotius Center for International Legal Studies at the University of Leiden and at EsadeGeo. Her research focuses on the non-proliferation of nuclear, chemical, and biological weapons, export control of dual-use goods, and European security and she has undertaken research stays at the University of Amsterdam, the Centre for Global Governance Studies at KU Leuven University, the University of Geneva, and the Council of Europe.

A graduate of the University of Montpellier and the OECD in international nuclear law, she previously worked as a lawyer in a Spanish-German law firm and as a legal assistant at the Regional Centre for Latin America and the Caribbean of the United Nations Development Programme (UNDP).  She studied law at the Albert-Ludwigs-Universität Freiburg and at the Universitat Pompeu Fabra, where she graduated, and holds an LLM and an MA in International Cooperation and Development (UB). Since 2019 she is one of WIIS's  Next Generation Gender, Peace and Security Fellows.

International regulation of dual-use items
Export controls
WMD non-proliferation and disarmament
Nuclear, chemical, and biological weapons

Dr. Milagros Álvarez-Verdugo
Associate Professor of International Law and EU Law at the University of Barcelona. She has been visiting researcher at Cornell University (2003-4, 2012-3), Harvard University (2005), IREDIES – Université Paris I (2015) and University College London (2020-21). As a visiting professor, she has taught at the School of Law in the University of Puerto Rico (2004 and 2008). She received her PhD in Law from the University of Barcelona (2000) and the Diploma in European Legal Studies at the College of Europe (1989).

Some results of her research on EU defense and security policy, arms control and non-proliferation have been published in REEI (2016, 31), ELJ (2015, 21-2), REDI (2012, LXIV-2), EJIL (2010, 21-1), EFAR (2006, 11-3) and book chapters. She is author of Incidencia del Consejo de Seguridad sobre el régimen jurídico de las armas nucleares (J.M.Bosch, 2007) and La política de seguridad y defensa de la Unión Europea (Dykinson, 2003). 

European integration process
EU defense and security policy
Disarmament & arms control
International cooperation on energy