<!=========list Template=========>
Final Program The Third Consultative Meeting of the EU Non-Proliferation Consortium took place on 3 and 4 November in Brussels. It continues the series of European expert meetings, […]
Find out more »
Final Program
The Third Consultative Meeting of the EU Non-Proliferation Consortium took place on 3 and 4 November in Brussels. It continues the series of European expert meetings, which started in 2011 with the so-called Kick-off Meeting and was followed by the Second Consultative Meeting in 2013. Both events took place under the Council Decision 2010/799/CFSP.
The aim of the consultative meetings is to provide a forum for discussion and exchange of views on non-proliferation and disarmament matters for European experts, researchers, academics and practitioners. The Third Consultative Meeting took place under the Council Decision 2014/129/CFSP and will be followed by a fourth and fifth meeting in 2015 and 2016, respectively. The meeting was attended by 91 participants coming from the External Action Service (15), other EU Institutions (4), the EU Member States (28), International Organizations (1), the EU think tanks and the EU academic world (40), as well as from three independent experts from Norway (1) and Switzerland (2).
20 EU Member states were represented
 by (at least) one official delegate at the meeting. It was the highest number of EU MS at the consultative meetings, so far. Also the new EU Member Croatia sent one delegate from the capital.
Monday, November 3, 2014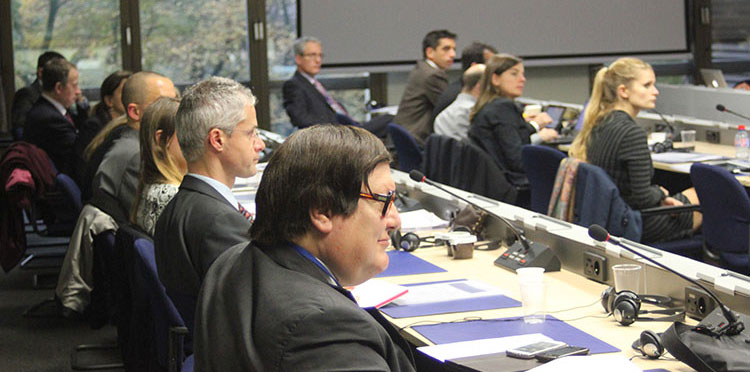 Welcome and Introduction into the Meeting

9:30 – 10:30 : Registration and Welcome Coffee
10:30 – 10:15 : Welcome and Introduction to the Meeting

Harald Müller, Peace Research Institute Frankfurt
Jacek Bylica, European External Action Service (EEAS)

Session 1 Repercussions of the Ukraine Crisis

10:45 – 12:30 : Chair/ Harald Müller, Peace Research Institute Frankfurt
Implications of the Ukraine crisis on the nuclear non-proliferation regime

Speaker: Łukasz Kulesa, European Leadership Network (ELN)

Challenges for the global arms control regime and cooperative security with Russia

Speaker: Jiří Schneider, Prague Security Studies Institute (PSSI)
Speaker: Paolo Foradori, University of Trento
Session 2: Controlling Unconventional and Conventional Arms in the Middle East and in North Africa (MENA)

14:00 – 15:30 : Light at the end of the tunnel? The Syrian chemical weapon programme and the Iranian nuclear dossier

Chair: Erzsébet Rózsa, Hungarian Institute of International Affairs (HIIA)
Speaker (Iran, E3+3): Dina Esfandiary, International Institute for Strategic Studies (IISS)

16:00 – 17:30 : Tracking the flow of conventional weapons to state and non-state actors in MENA

Chair: Thanos Dokos, Hellenic Foundation for European and Foreign Policy (ELIAMEP)
Speaker (EU arms transfers): Jan Grebe, Bonn International Centre for Conversion (BICC)
Speaker (spread of arms to non-state actors): Ali Arbia, Small Arms Survey
Tuesday, November 4, 2014
Session 3: Arms Control Issues for the European Union

9:30 – 10:45 : Implementation of the EU SALW Strategy in the light of the Arms Trade Treaty (ATT)

Chair: An Vranckx, Group de recherche et d' information sur la paix et la sécurité (GRIP)

11:15 – 12:30 : Ensuring a successful outcome of the 2015 NPT Review Conference: steps to an EU Common Position

Chair: Tom Sauer, University of Antwerp
Comment: Camille Grand, Fondation pour la Recherche Stratégique (FRS)

Session 4: Emerging Issues in Arms Control

14:00 – 15:15 : Lethal autonomous weapons ("killer robots") and the Convention on Certain Conventional Weapons (CCW): is it time for an EU Common Position?

Comment: Niklas Schörnig, Peace Research Institute Frankfurt (PRIF)

15:45 – 17:00 : Rapid advances in biotechnology and chemistry and their challenge to the BWC and CWC regime

Chair: John Hart, Stockholm International Peace Research Institute (SIPRI)
Speaker (bio): Caitríona McLeish, University of Sussex
Comment: Richard Guthrie, CBW Events

17:00 – 17:15 : Closing of the meeting

Joëlle Jenny, European External Action Service (EEAS)
Harald Müller, Peace Research Institute Frankfurt (PRIF)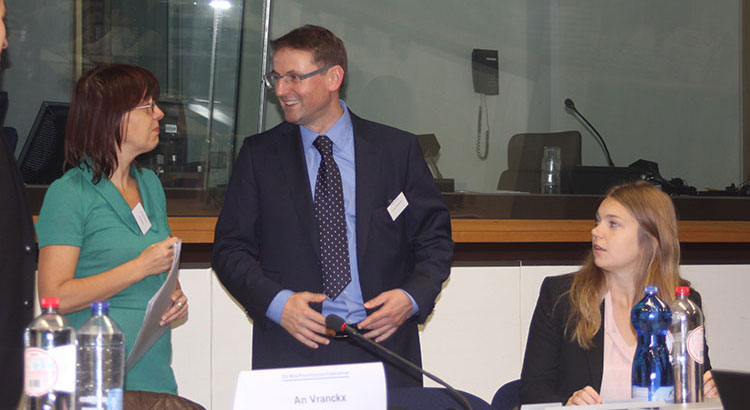 Conference Centre Albert Borschette (CCAB),
36 rue Froissart
Brussels
,
B- 1040
+ Google Map