Preparing for the 2015 NPT Review Conference
8 April 2015

-

9 April 2015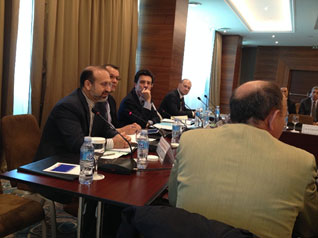 International seminar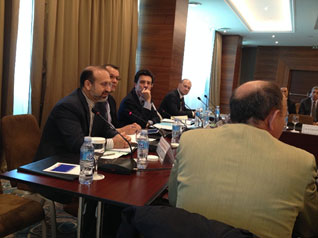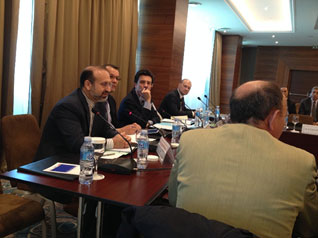 An international seminar on "Preparing for the 2015 NPT Review Conference," (RevCon) co-organized by the Algerian Ministry of Foreign Affairs (MFA) and the EU Non-Proliferation Consortium (EUNPC – Fondation pour la recherche stratégique, Paris, France), was held at the Sheraton hotel, near Algiers (Algeria), on 8 and 9 April 2015. The event was supported by the EU.
About 50 people attended the seminar: over 20 countries were represented, many at the ambassadorial levels. The ONUDA and the IAEA were represented. The president of the 2015 Revcon was present, along with the chairs of the three main committees of the Revcon. Five experts from the EUNPC and one nongovernmental expert from the Middle East gave presentations and/or moderated sessions.
It was recognized that the 2015 NPT RevCon would be difficult because of inadequate implementation of the 2010 action plan. Yet the interim deal between Iran and the E3+3/EU (the Lausanne agreement) was perceived as an opportunity to create a positive atmosphere because it strengthens the NPT and shows that nonproliferation tools work. The cornerstone of the EU non-proliferation strategy ("effective multilateralism") was recalled and its approach to the 2015 Revcon was detailed.
Most of the challenges facing the RevCon were developed during session I ("Challenges and opportunities for the 2015 NPT Review Conference"). Session II ("Achieving progress on nuclear disarmament, including new approaches") was marked by constructive propositions. It was stated that peaceful uses of nuclear energy (Session III) are crucial for social and economic development. Contribution of the Nuclear Weapon Free Zones to Non-Proliferation and Disarmament was detailed in Session IV. The success of the Nuclear Free Zones (NFZ) as a cross-cutting tool and issue for the NPT regime was recognized by the participants. Lastly, session V dealt with various aspects concerning the reinforcement of the NPT Review Process: institutional, procedural, substantive.
Agenda
Wednesday, April 8th 2015
9h00 – 9h45
Opening Session
Statement by Representative of Algeria
Statement by Ambassador Jacek Bylica, Special Envoy EEAS, EU
Statement by Representative of UN Office of Disarmament Affairs
9h45 – 10h00
Coffee break
10h00-11h30
Session I – Challenges and opportunities for the 2015 NPT Review Conference
Moderator: Representative of Algeria

Panel:
Representative of UK
Mr. Ayman Khalil, Director, ACSIS, Jordan
Representative of Algeria

11h30 – 11h45
Coffee break
11h45 – 13h00
Session II – Nuclear disarmament
Moderator: Bruno Tertrais, Senior Research Fellow, FRS, France

Panel:
Representative of Algeria
Representative of Japan
Ambassador Enrique-Roman Moray, President of Main Committee I
Mr. Mark Fitzpatrick, IISS, EUNPC

13h00 – 14h30
Lunch
14h30 – 16h00
Session III – Peaceful uses of nuclear energy
Moderator: Mr. Benjamín Hautecouverture, Senior Research Fellow, FRS, France

Panel:
Representative of Iran
Ambassador David Stuart, President of Main Committee III
Representative of the IAEA
Mr. Vitaly Fedchenko, SIPRI, Sweden

16h00 – 16h15
Coffee break
16h15 – 18h15
Session IV – Contribution of the Nuclear Weapon Free Zones to Non-Proliferation and Disarmament
Moderator: Representative of Egypt

Panel:
Representative of South Africa
Representative of Mexico
Ambassador Cristian Istrate, President of Main Committee II
Representative of Finland

18h30
Welcome reception
Thursday, April 9th 2015
10h00 – 11h30
Session V: Strengthening the NPT Review Process
Moderator: Representative of Algeria

Panel:
Representative of Cuba
Representative of UN Office of Disarmament Affairs
Mr. Benjamin Hautecouverture, Senior Research Fellow, FRS, France

11h30-12h00
Closing session
Ambassador Jacek Bylica, Special Envoy EEAS, EU
Ambassador Taous Feroukhi of Algeria, the President-designate of the 2015 NPT Review Conference
Mr. Mark Fitzpatrick, Director, IISS Non-proliferation and Disarmament Programme / Vice-Chairman, EUNPC
Details
Start:

8 April 2015

End:

9 April 2015

Event Category: