Man-portable air-defence systems (MANPADS)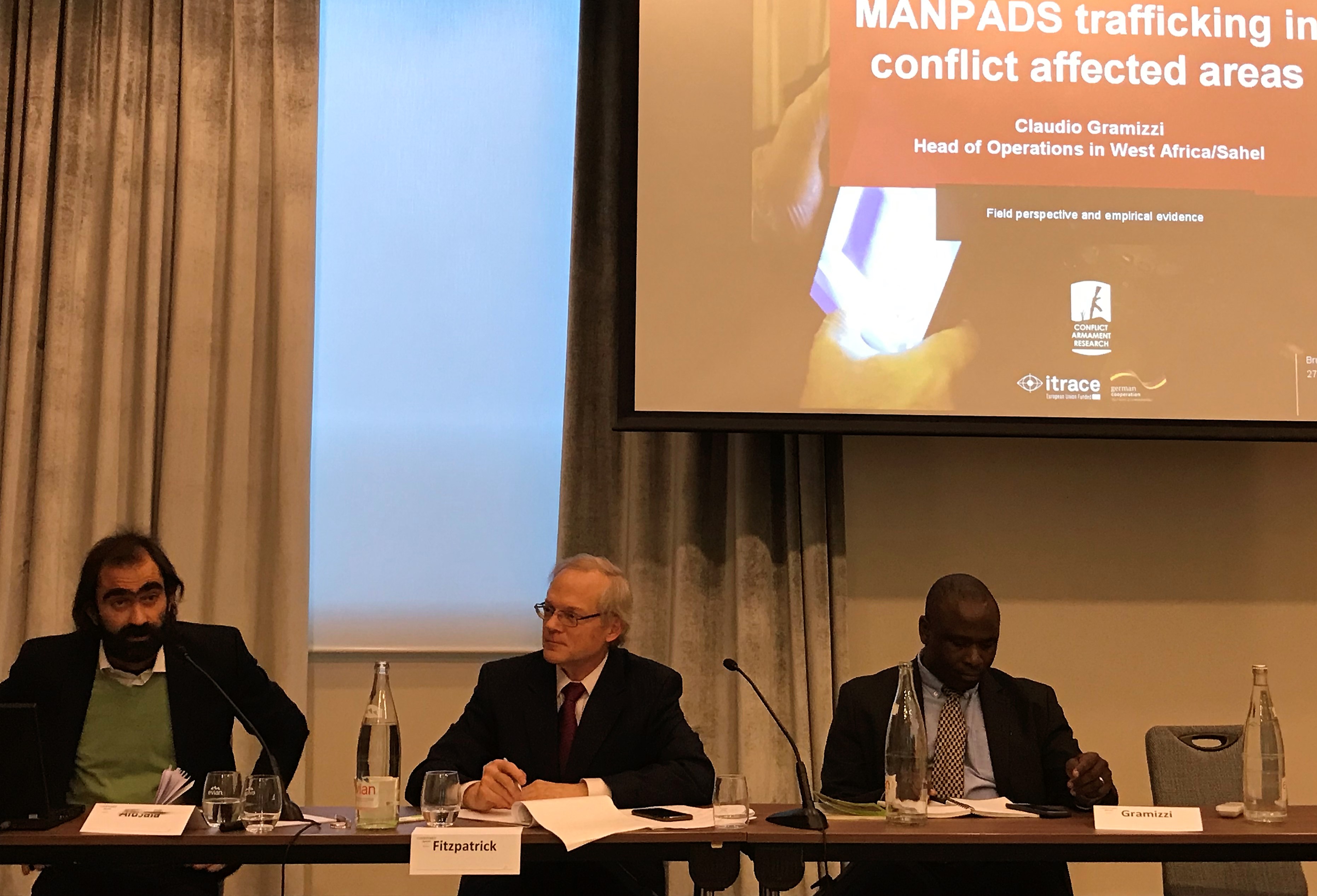 Man-portable air-defence systems (MANPADS)
On behalf of the EU Non-Proliferation and Disarmament Consortium, the International Institute for Strategic Studies (IISS) organised an ad-hoc workshop in Brussels on 27 November on the diversion risks of man-portable air-defence systems (MANPADS), attended by approximately 55 government officials and non-governmental experts from Europe and elsewhere. Jacek Bylica, European External Action Service Special Envoy for Disarmament and Non-Proliferation, who had initiated the workshop, noted that MANPADs exemplify the interactive nature of the key threats identified in the European Agenda on Security: in this case, terrorism, organised crime and proliferation.
The workshop addressed the level of risk, the level of awareness and the actions needed to alleviate risks. A technical session explained the history, design, components, use, and variations of MANPADS, more than one million of which have been produced in the last 50 years. Over the past decade, about 20,000 have been transferred, often with insufficient transparency. Some of these weapons can be used with little training and they can last for decades in the right climate conditions. Trade and diversion trends were explained, and the export controls that have introduced, including best practices promoted by the OSCE and the authorization system introduced by one company to prevent illicit use of its weapons.
Briefings covered the situation in specific regions and conflict zones around the world, including northern Africa, the Levant, South America, eastern Africa, Southeast Asia, and Eastern Europe. While the situation in the Horn of Africa remains fraught, here are serious risks in Venezuela, where the unstable government has procured over 500 MANPADS launchers and dispersed them to 42 military units around the country, and in the Donbas region of Ukraine, where Russian-supported rebels have seized government stockpiles. Elsewhere, government secrecy is as much of a problem as capacity constraints in impeding the tracing of transfers.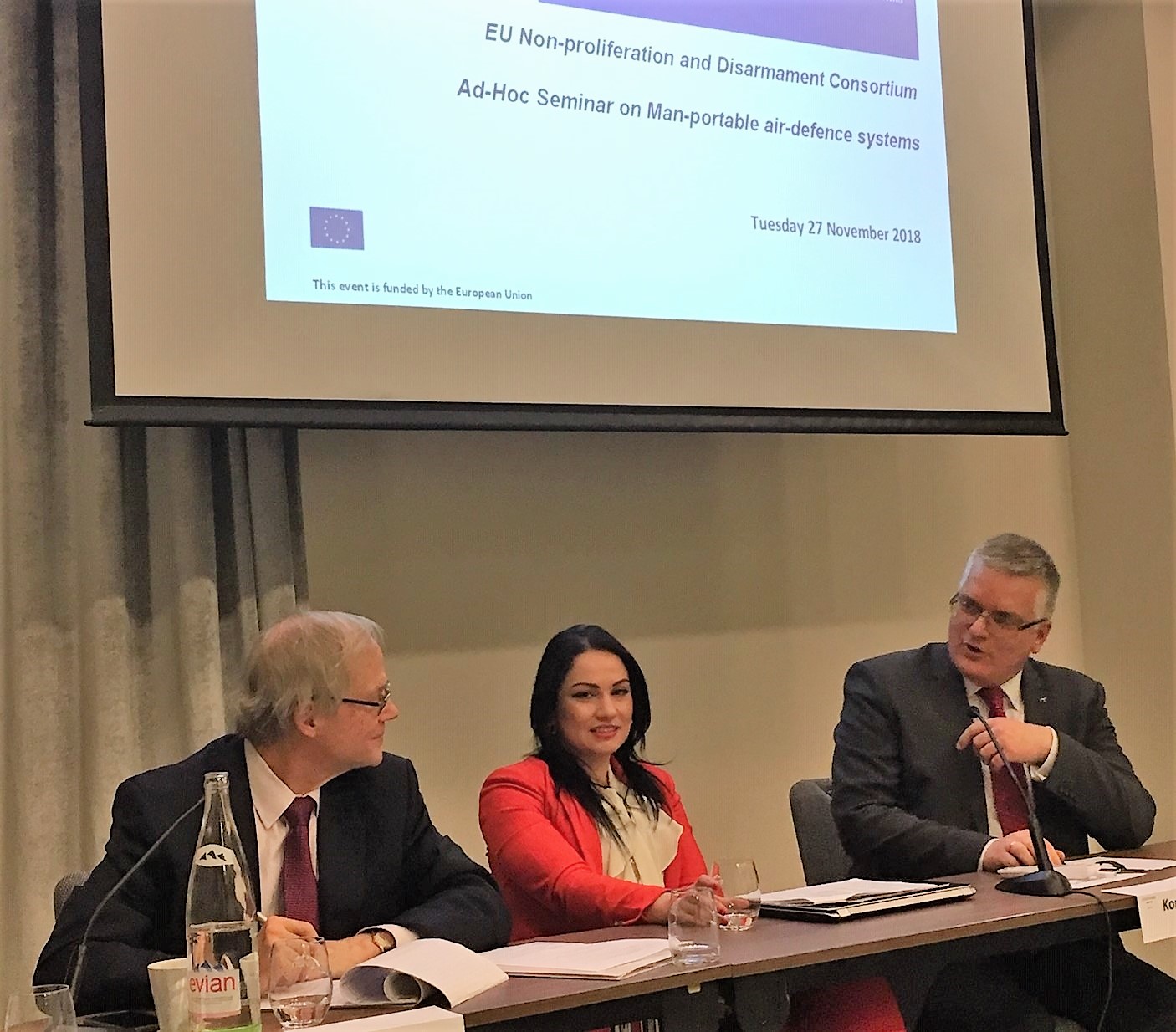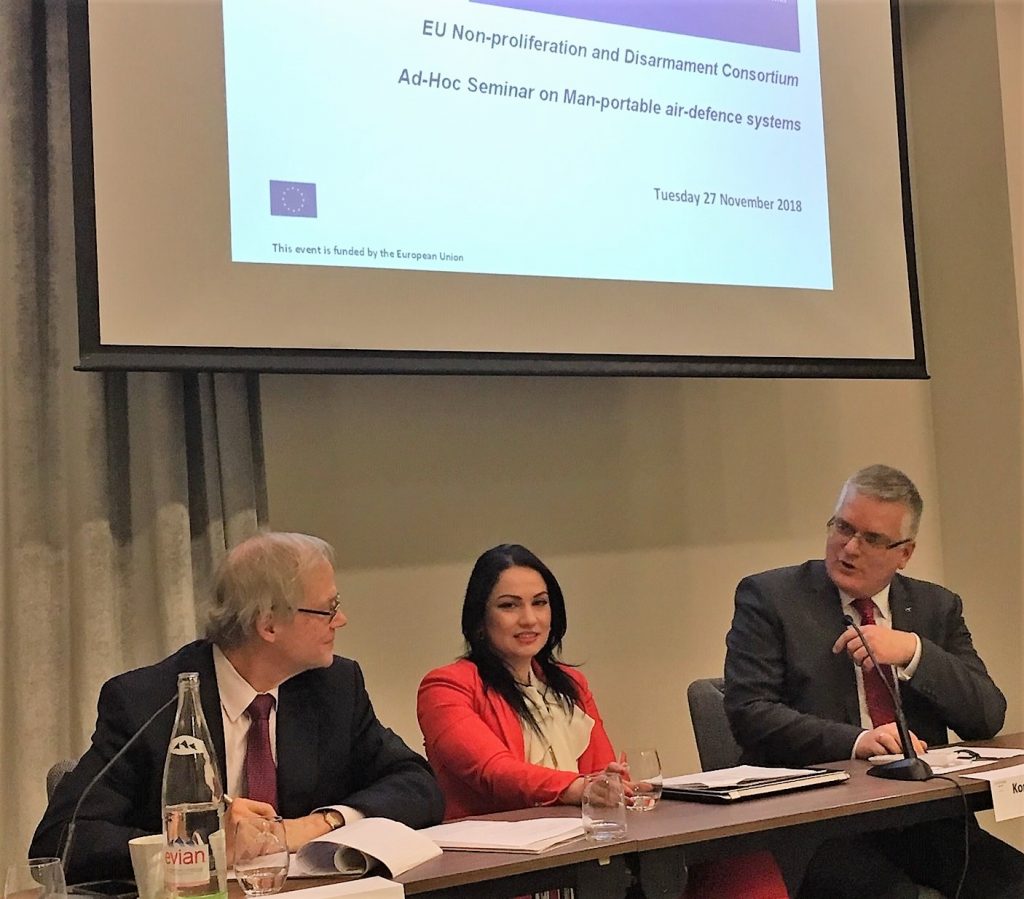 Agenda
Tuesday, 27 November 2018
08:45 – 09:00
Registration
09:00 – 09:15
Introductory remarks
Jacek Bylica, Special Envoy for Disarmament and Non-proliferation, EEAS
Mark Fitzpatrick, Director, Non-Proliferation and Nuclear Policy, IISS
Part I: MANPADS global issues and responses
These first two sessions will aim to address the following elements:
MANPADS basics:history, design, main components, use, variations
MANPADS lifecycle, durability and longevity
Expertise and training needed for effective operation.
Numbers produced
Trade and diversion trends
Export controls
Technical end-use control features
Principles and best practices
09:15 – 10:15
Session I a: Threat assessment, technical introduction, production, control features
Speakers:
Ben Barry, Senior Fellow for Land Warfare, IISS
Tomasz Brodniewicz, Head of the Precise Ammunition Department, MESKO
10:15 – 11:00
Session I b: Trade, export controls and best practices
Speakers:
Siemon Wezeman, Senior Researcher, Arms Transfers and Military Expenditure
Programme, SIPRI
Robin Mossinkoff, Head FSC Support Section, Conflict Prevention Centre, OSCE
11:00 – 11:30
Coffee break
Part II: Focus on specific regions and conflict zones
In each of the following sessions we will seek, as best possible, to address:
Availability and use of MANPADS
Perceptions of threat
Actions undertaken to address the issue
Capacity of local governments and regional institutions to mitigate threat
Outside assistance needed
11:30 – 12:15
Session II a: Regional focus –North Africa
Speakers:
Matt Schroeder, Senior Researcher, Small Arms Survey
David Diaz, Chief of Staff, Strategic Capacity Group
12:15 – 13:00
Session II b: Conflict zones – The Levant
Speakers:
David Diaz, Chief of Staff, Strategic Capacity Group
Siemon Wezeman, Senior Researcher, Arms Transfers and Military Expenditure
Programme, SIPRI
13:00 – 14:00
Lunch
14:00 – 14:45
Session II c: Regional focus – Southeast Asia
Speaker:
Shang-Su Wu, Research Fellow, Military Studies Programme, Institute of Defence and
Strategic Studies, S. Rajaratnam School of International Studies
14:45 – 15:30
Session II d: Regional focus – South and Central America
Speaker:
Andrei Serbin Pont, Research Director, La Coordinadora Regional de Investigaciones
Económicas y Sociales (CRIES)
15:30 – 15:45
Coffee break
15:45 – 16:45
Session II e: Regional focus – East Africa
Speakers:
Dr Nelson Alusala, Research consultant, Institute for Security Studies (ISS)
Claudio Gramizzi, Head of Regional Operations – West Africa, Conflict Armament
Research
16:45– 17:30
Session II f: Regional focus – Eastern Europe (Ukraine)
Speaker:
Dr Margarita Konaev,Non-Resident Fellow, Modern War Institute at West Point
17:30 – 17:45
Concluding remarks
Jacek Bylica, Special Envoy for Disarmament and Non-proliferation, EEAS
Details
Date:

27 November 2018

Event Category:
Venue
Courtyard by Marriott

Avenue des Olympiades 6




Brussels

,

1140

Belgium
Organizer
Mark Fitzpatrick – Director Non-Proliferation and Disarmament Programme